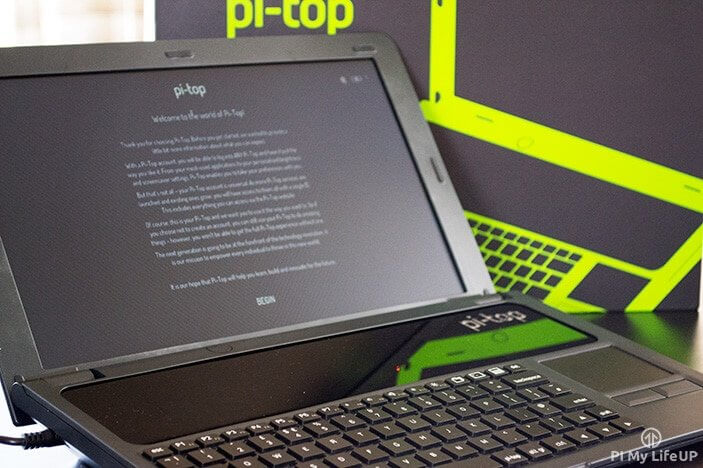 In this Pi-Top review, I take a look at both the hardware and software of this cool DIY Raspberry Pi laptop.
After pre-ordering the Pi-Top about six months ago and after a few delays I finally received it in the mail just a few weeks ago.
In this review, I will go through my thoughts on the device that will hopefully help you make up your mind if you're thinking of buying one.
Since this review, Pi-Top has released newer versions of the laptop. This appears to fix some of the issues with the original. I highly recommend that you check it out if you're interested in this device.
Video
If you want to watch my video on the Pi-Top review, then you can find it below. I touch on basically all the same points I mention in this article, but you can also see the Pi-Top in action.
If you do like the video, then make sure you subscribe, so you stay up to date with all things Pi.
Adblock removing the video? Subscribe to premium for no-ads.
Hardware
In this section, I list my thoughts on the hardware that is included in this DIY Raspberry Pi laptop kit and what you can expect if you decide to buy one.
Keyboard
The keyboard that comes with the Pi-Top is available in both in US and EU layouts, so you're able to get the one that you're most comfortable with. The actual keyboard I found it to be quite stiff so I needed to push down on the keys quite a bit for it to register. This stiffness made the keyboard feel quite clunky and cheap.
Another thing I didn't particularly like about the keyboard is the lack of any indicator light. You will need to start typing to see if cap locks have been pressed which can be quite annoying.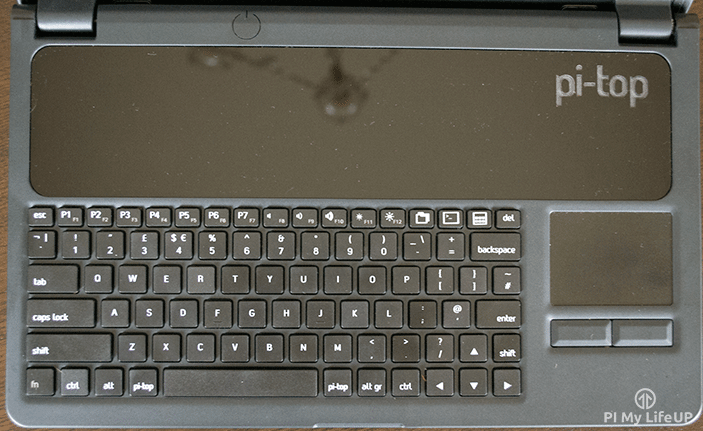 The trackpad for the Pi-Top is located on the right of the keyboard. It is an ok size, but any smaller it will be excruciating to use. On the good side is that is responsive and is probably one of the better trackpads currently available for the Raspberry Pi.
The trackpad buttons that represent the right and left mouse buttons are easy to press and give quite a loud click. This click might be a bit too loud for some people, but for me, it isn't a huge issue.
Battery
As with any laptop, the battery is one of the most important items because without it just you have a small desktop computer.
The battery in this Raspberry Pi laptop lasts for ages! I have tested it out a couple of times now, and it will last on average between 8-12+ hours depending on how heavily you're using it. This laptop is great if you need a device that will last a long time.
One of the downsides of the battery is that it isn't removable. It is sealed shut into the base of the case of the laptop. Which is pretty disappointing at it makes replacing the battery a lot harder in the future. It is hard to know how long the battery will last, but hopefully, by the time it starts to have little to no life pi-top will have an easy & affordable way to get a replacement.
Laptop Casing
The casing of the laptop is pretty decent. The plastics are sturdy and didn't appear to have any major defects. I did notice a few very light scratches on the plastic near the left side of the screen. However, I can't say if that was caused when it was manufactured, shipping or during the assembly.
Screen
The screen that you get is 13.3″ big and has a 1366×768 resolution. The overall design of the screen is pretty good quality, and I believe the resolution is sufficient for the size of the screen. You will also find that you won't suffer from too much glare as it has an anti-glare finish.
You will find the screen makes use of your HDMI port freeing up your DSI port if you wish to use it for something else.
Peripherals
The access to the peripheral slots on the Raspberry Pi is probably one of the biggest downsides of this Raspberry Pi laptop. Unfortunately, due to the design of the case, you can only easily access one Port. To use the rest, you will need to remove the cover that covers the Pi and PCB hub and connect them up. The same goes for the Ethernet port where you will need insert the cord and have it come out the side hole. If you want to hook up lots of Raspberry Pi accessories, then it might be a bit of a pain.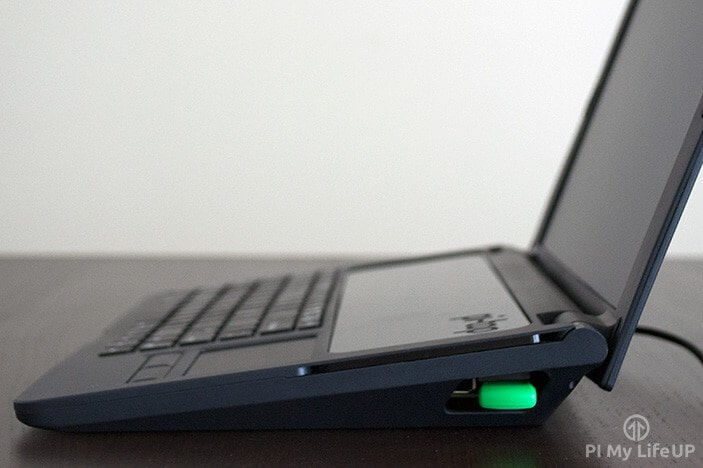 While the Raspberry Pi GPIO pins are used for the PCB hub, you will find that the PCB hub, has GPIO pins you can break out from. However, no breadboard or breakout kit comes with the kit so these will need to be purchased separately.
Another downside is there is no speaker for this laptop so you will need to connect headphones or hook your own up to the Pi. This speaker is yet another cord that may need to have come out the side of the Pi or the top if you have the plastic cover.
Overall Build & Assembly
The process of assembling the pi-top is relatively easy. It comes with instructions on how to assemble the laptop however sometimes the instructions can be a little hard to understand. If you want to see all the parts and how to put it together, then be sure to check out my guide on the pi top unboxing and assembly.
The overall design of the device is quite nice. The ability to interchange micro-computer boards with others such as the Beaglebone older Pis and possibly newer Pis (If they keep to the same size). There are a few things I didn't like such as the sealed battery unit, keyboard quality, access to peripheral slots and of course no speaker.
Operating System
An important part of this Pi-Top review taking a look at the Pi-TopOS. This operating system (OS) comes bundled with the Pi-Top. It is important to remember if you don't like the Pi-TopOS then you can easily change the OS to another such as Raspbian, Ubuntu mate and the other variations available.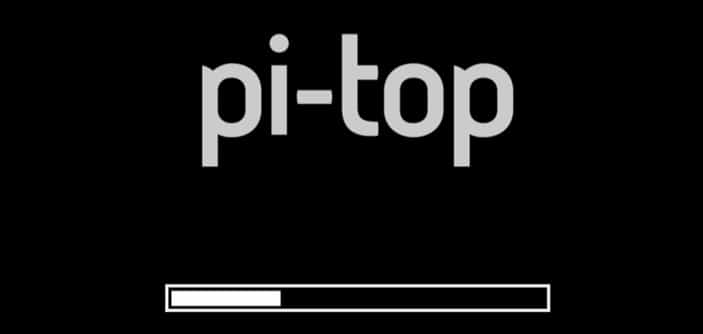 Getting Started
The process of getting the operating system up and going couldn't be easier. All you need to do is have the microSD card inserted into your Pi and turn it on.
Once it has booted it up you will be presented with a series of questions that will help with setting up the software correctly such as keyboard layout & WiFi connection.
Once you have done the initial setup, you will be presented with a screen saying you need to update. Unfortunately for me this got stuck on connecting and wouldn't proceed. After a bit of research, I found a workaround. Before proceeding you can either enter as a guest or set up your own account. However, by default create a new user is hidden. To view it you will need to press the cog in the lower right corner.
Now go to terminal and enter the following lines.
sudo su
curl -sL https://www.pi-top.com/download/patch1 | sudo bash -
**Without sudo su you're likely to get a permission problem.
After doing this, your Pi-Top should update correctly.
After this, you're free to do whatever you would like on your Raspberry Pi laptop. I'll go into some of the features you can expect in the Pi-TopOS and anything else such as performance and bugs.
Features & Performance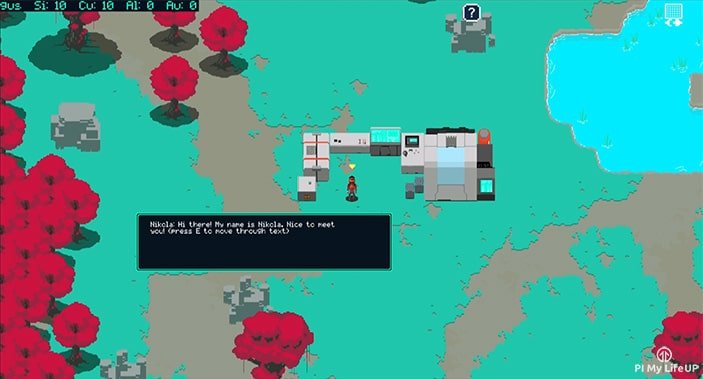 One of the main selling points of the Pi-Top OS is the CEED universe. This is an educational game where you learn to code robots and also build circuits. There seems to be a lot to this game and is certainly worth looking into if you're looking to learn more about coding and circuitry.

You also have all the other standard applications you can expect on the Pi such as Python, Chromium, the pi store and more.
At the writing of this pi-top review, there were quite a few bugs in the pi-TopOS. One bug, in particular, had the desktop UI crash whenever I tried to do something. However, a simple restart fixed it. You can expect most bugs will be fixed in the very near future.
The performance of the operating system seems to be decent and stable. You can expect to see more and more updates for the operating system as they have another system coming out that uses it as well. As I mentioned earlier, if you don't like it you can revert to the many other operating systems currently available of the Pi.
Price
You can find the pi-top for sale at $299.99 USD with the Raspberry Pi or $269.99 USD without the Pi included. Now when you compare this to a Chromebook, for example, it might come across as a bit expensive. (Chromebook vary from $150 USD upwards).
Personally, if all I just wanted to do is document work and internet browsing the Chromebook or similar would be a better buy. However, if you want a device that you can continue to upgrade, customize and learn, from then the Pi-Top is probably a better choice despite the price.
If you're after a kit so a kid can learn on that isn't as expensive as this, then be sure to take a look at the Kano computer kit. Like the Pi-Top, the Kano also has plenty of educational features.
The Pi-Top Review Summary
Overall the Pi-top is a decent laptop that shows huge potential but unfortunately is held back by a few things that might put you off from picking one up. As I mentioned earlier if you're just after a cheap laptop, then a Chromebook probably be better suited for you. If you, however, want a laptop that you can build from scratch, modify and continue to learn from then this is certainly worth getting.
Below is my summary of the pros and cons of this device.
Pros:
Lightweight
Modular
Build Quality is Decent
Very Stylish
Battery Life
Educational
All in one package
Cons:
The Battery is not removable
Only 1 USB port easily accessible from the side port
No speaker
Ethernet port isn't easily accessible
The keyboard is a bit clunky
The Operating System needs more work
Price
Final Review Details
Reviewed Item: Pi-Top: Raspberry Pi Laptop
Reviewer: Gus
Author Rating: 3.5/5 Stars
I hope this Pi-Top review has helped shed some light on this DIY Raspberry Pi laptop. If you have some thoughts, you would like to share then feel free to drop a comment below.
Affiliate link disclaimer: All the products I mention on this website I have personally purchased and used at least once. Some of the links on this website are affiliate links that earn me a small commission whenever a sale is made.