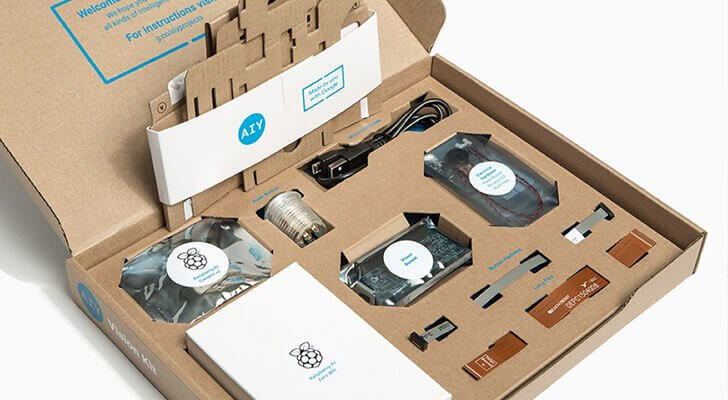 Google has released an updated version of its Google AIY Project, these upgraded versions of the kits come packed with everything you might need to setup either their Voice or Vision projects.
In these new kits, you will now find the newly released Raspberry Pi Zero WH, which is basically a Raspberry Pi Zero W with the header pins pre-soldered making it much easier for beginners to use as they don't have to do it themselves.
Previous versions of the kit required you to go out and buy a Raspberry Pi 3 separately so the addition of the Raspberry Pi Zero WH makes the product more of a great purchase for the average maker.
Each Google AIY kit comes packed with a special HAT designed to handle machine learning for that certain field, this allows the Raspberry Pi to do more complicated tasks as it can utilize the chip to do the complicated learning.
For instance, the Google AIY vision kit comes with a HAT that Google calls the "Vision Bonnet". This Vision Bonnet is where the machine learning chip sits and is what the camera signal will pass through before going to your Raspberry Pi.
It will learn from the imagery and pass all it's information to the Raspberry Pi which contains the software that interprets the machine learning data.
Additionally, Google also provides a Voice KIT, this is similar to the Vision KIT but features Google "Voice Bonnet".
This voice bonnet like the vision bonnet handles everything related to its intended field, in this case, the HAT includes a microphone and a special chip that is designed to be able to better understand someone that is speaking.
The KIT also comes with a speaker and a button that you can utilize to activate the Google Assistant.
You can buy the new Vision and Voice Google AIY projects at Adafruit for a price of $99.95 USD and $59.95 USD, respectively. They do not currently sell the kits through their own website and are only available to US residents.