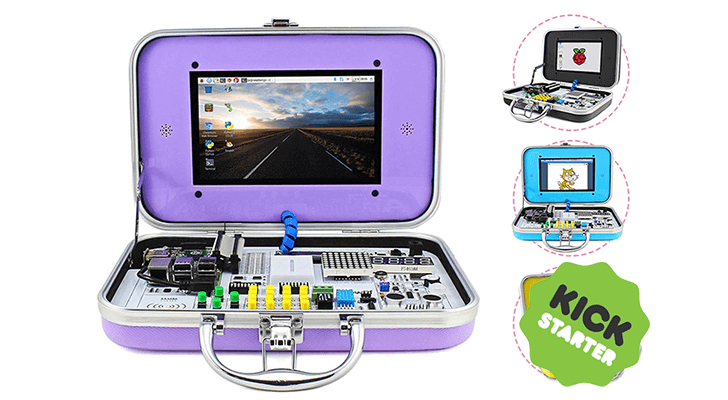 CrowPi is an educational Raspberry Pi kit that has just started its Kickstarter campaign, the device is designed by Elecrow, a company based out of Shenzen, China.
It has been designed to try and ease people into using their Raspberry Pi for computer programming, basic electronics, and general computer science.
CrowPi like numerous products that feature the Raspberry Pi at its heart is aimed at assisting and promoting STEM (Science, Technology, Engineering, and Mathematics) education by lowering the complexity to getting up and running.
The CrowPi tries to set itself apart from its competitors by offering a portable package that contains numerous different parts all to make it easier to begin prototyping circuits and learning how everything works.
Featured inside the box is a 7-inch touch screen allowing the device to be easily portable, and best of all easy to interact with.
Included alongside the touchscreen is a case full of different parts of electronics, with the Raspberry Pi's GPIO pins plugged into the CrowPi board you gain access to a GPIO LED state and it's various components.
Below is a small list of the additional parts that we could work out is included on the board, you will quickly notice there are a fair few parts packed into the CrowPi's board.
An RFID RC522 Module for reading specific NFC chips
An 8 x 8 LED Matrix
Ultrasonic Sensor
Push buttons and a 4 x 4 push button matrix
Breadboard designed to help interact and extend the included circuits
Humidity and temperature sensor
Vibration Sensor
Light Sensor
Relay
Sound Sensor
Touch sensor
Tilt Sensor
7 Segment Display
Small LCD Display
Buzzer
Servo controller
CrowPi has just recently been pushed to Kickstarter with 43 days to go at the time of writing it has already reached $11,098 USD of its $30,000 USD goal. You can find out more about the CrowPi from their website, or from CrowPi's currently running Kickstarter.