This tutorial will show you how to use remote play on your Steam Deck.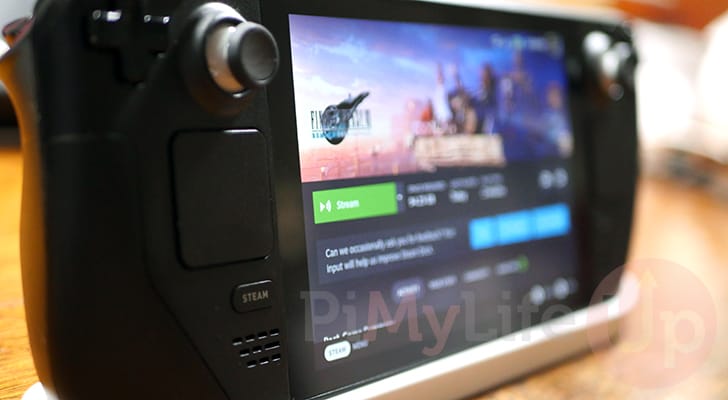 While you can use third-party software such as Moonlight to remote stream games to your Steam Deck, it has its own built-in functionality for this called Remote Play.
You can remotely play a game on your Steam Deck by streaming it from any device running the Steam client. You must be logged into the Steam client you intend on streaming games from.
The remote play functionality is excellent for streaming games to your Steam Deck that either won't run or require too powerful a device to run smoothly.
An advantage of using Steam's built-in remote play is that it works anywhere without additional work. You can stream games on the go as long as the PC you are streaming from is switched on. Of course, your mileage may vary, and you probably won't be able to play any fast-paced games away from your local network.
The downside of streaming technology on your Steam Deck is that there will always be some added latency, even if you are on the local network. The best way to try and reduce this is to ensure you are running an ethernet connection from your PC to your router. From the way Wi-Fi works, you will always get some increase in latency.
If you want to play PS5 games on your Steam Deck, check out our guide on using the PlayStation's remote play functionality.
Using Remote Play on your Steam Deck
Over the following sections, we will ensure that remote play is enabled on your PC and Steam Deck. If it is disabled on either device, you won't be able to stream games.
After we have walked you through enabling the streaming functionality, we will also show you how to use it from your Steam Deck.
Before continuing, you must be logged into your Steam Deck and another device with the Steam client installed.
Enabling Game Streaming on Steam Desktop
1. Our first step is to ensure you have remote play enabled on the Steam client from which you want to stream games from.
To enable this feature, start by opening up the Steam client on your computer.
2. With the Steam Client open, click the "Steam" button in the window's top-left corner (1.).
Clicking this button will bring up a drop-down box on which you must click the "Settings" option (2.).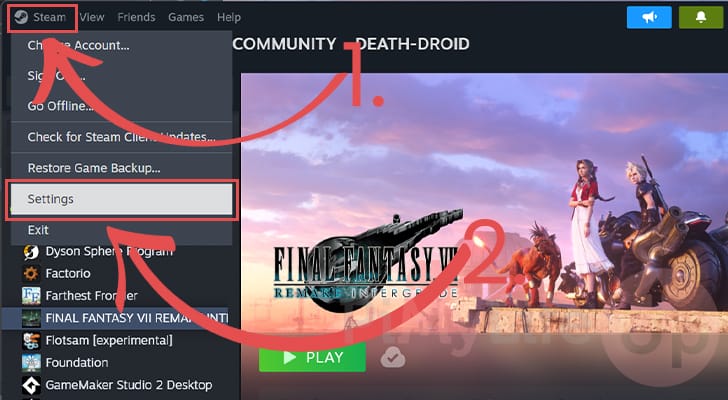 3. Now that the settings screen is open, swap to the "Remote Play" page (1.) using the sidebar.
At the top of the "Remote Play" settings, you should see an option labeled "Enable Remote Play" (2.). If the toggle is to the right, then you have this functionality enabled on your Steam client.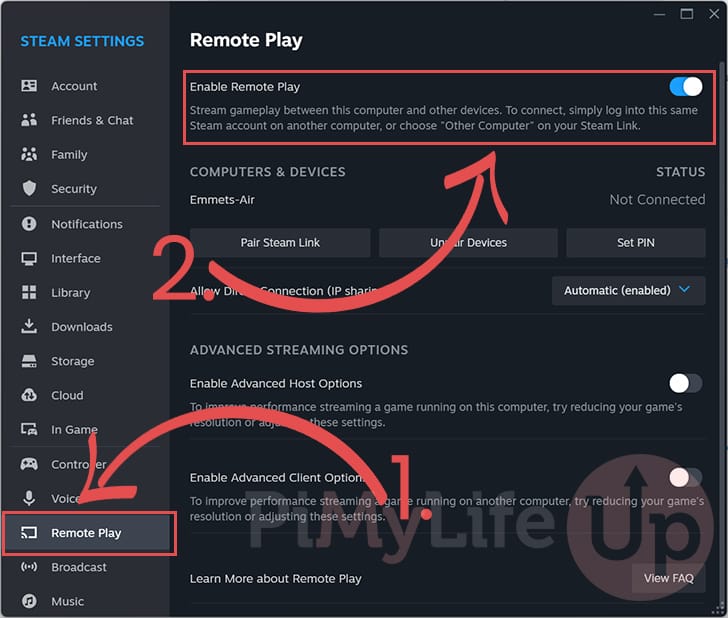 Enabling Remote Play on the Steam Deck
4. Now that you have a Steam client running with remote play enabled, we must also enable it on the Deck itself.
To do this, we must get to the settings using the Steam menu. You can access this menu by clicking "STEAM MENU" in the bottom-left or pressing the STEAM button on the Deck.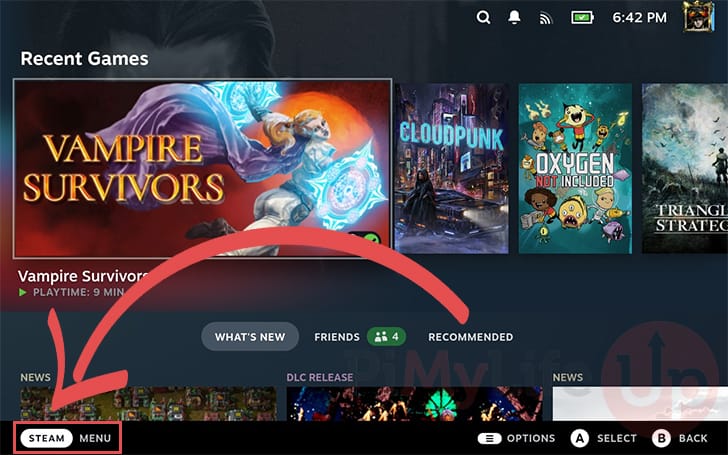 5. With the STEAM MENU open, find and click the "Settings" option.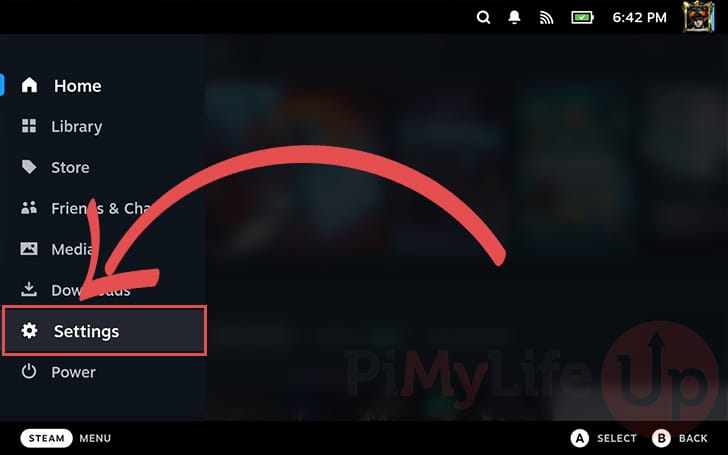 6. Once in the settings page, use the sidebar and scroll till you see the "Remote Play" option and click it (1.).
Your next step is ensuring that the "Enable Remote Play" option is toggled on (2.). The toggle should be on the right side with a blue color showing.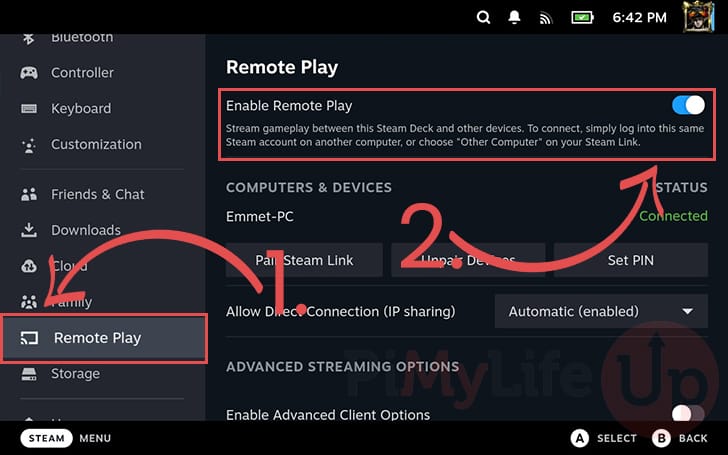 Playing a Game over Remote Play on the Steam Deck
7. At this point, you can finally put the Steam Deck's remote play functionality to use.
Find a game within your library that you have installed on the computer you want to stream for. In our case, we will be streaming Final Fantasy 7 Remake.
On the games page, you should see a little arrow next to the "Install" or "Play" buttons. Click this arrow to bring up another menu.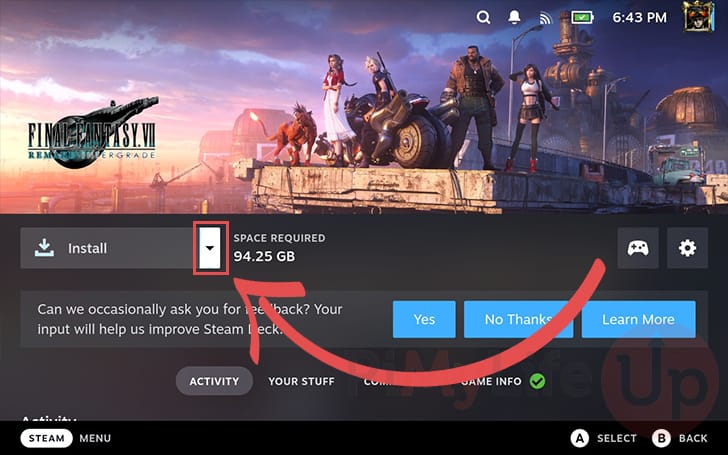 8. This dialog box lets you select where you want to play this specific game from.
In our case, we have the Steam Deck as the top option. Then we have my PC. We must select the PC to launch this game using Steam remote play.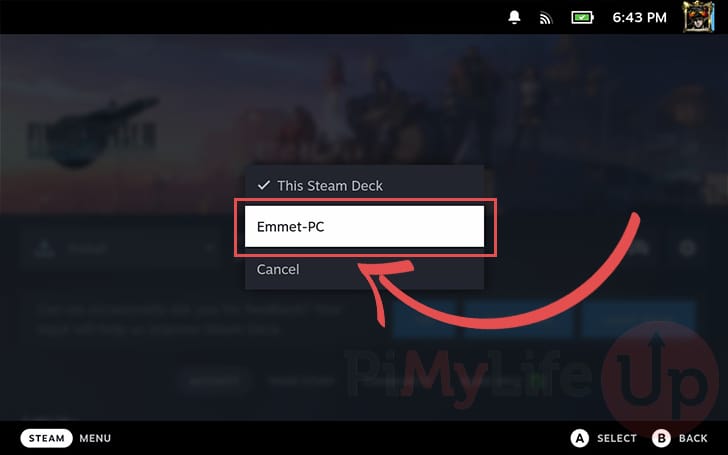 9. Now you will see that the button has changed from "Install" or "Play" to "Stream".
To launch a game on your Steam Deck over remote play, you simply need to click the "Stream" button.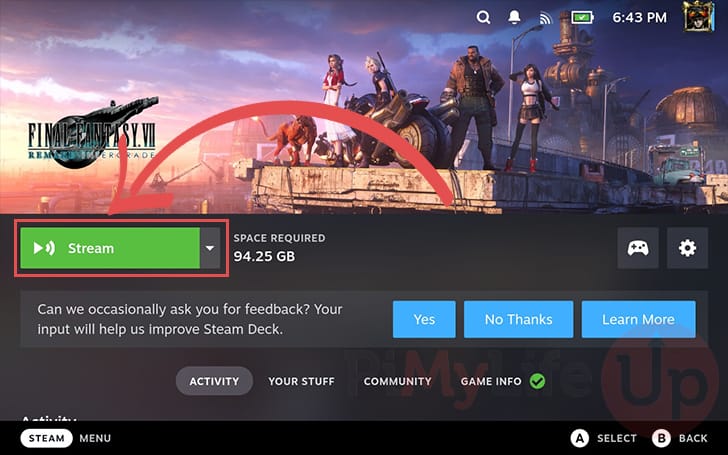 10. Below, you can see that we are now remotely playing Final Fantasy 7 Remake on my Steam Deck.
If I were to check on my computer, I would see the game currently running.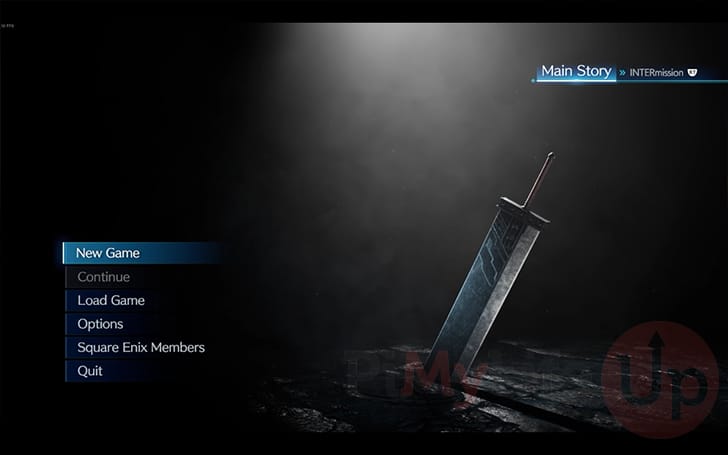 Conclusion
Hopefully, at this point in the tutorial, you will now understand how to use the remote play functionality on your Steam Deck.
You can stream games from any Steam client to your Steam Deck using this functionality. It is a good alternative to having to use a cloud streaming service such as GeForce NOW or Xbox Game Pass, especially if you have a decent PC already.
Please feel free to leave a comment below if you have any questions about using remote play.
If you found this guide to be useful, we highly recommend checking out our many other Steam Deck tutorials.