In this quick guide, we will be walking you through the process of factory resetting Steam Deck.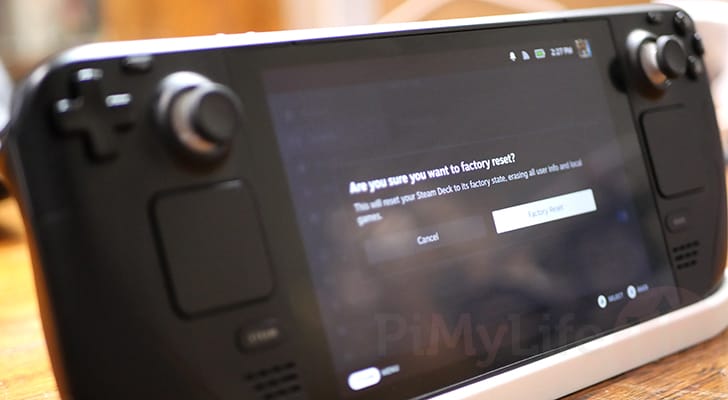 A factory reset of your Steam Deck is designed to return all its settings and storage to its original state. You are essentially returning it to how it was when it came out of the factory.
There are various reasons you may want to factory reset your device. For example, you are selling your Steam Deck and don't want any of your personal information to be on the device. Alternatively, you could be running into issues with the operating system that don't seem to be fixed through a reboot or performing a system update.
If you are trying to fix issues with your Deck, consider the factory reset a last resort. You will lose all your installed games and saves if you have not backed them up.
Luckily, if you do need to perform a reset of your device, Valve has made this process a super straightforward one, as you will soon see.
If you are running into issues where you can't access gaming mode, you may need to put your Steam Deck into recovery mode instead.
Please note that this will not roll your firmware back. The Steam Deck will be reset using the current version you have installed.
Factory Resetting your Steam Deck
In this section, we will be showing you exactly how you can perform a factory reset on your Steam Deck. This process is a super simple one and can be started with just a few clicks.
For all of these steps to work, you must be in gaming mode and not desktop mode.
Before continuing any further, remember that a factory reset is permanent. You will not be able to restore any of your data after the process completes.
1. Your first step is to bring up the STEAM Menu. This can be opened quickly by pressing the STEAM button on your Steam Deck.
Alternatively, you can click the "STEAM Menu" button in the bottom left side of the screen.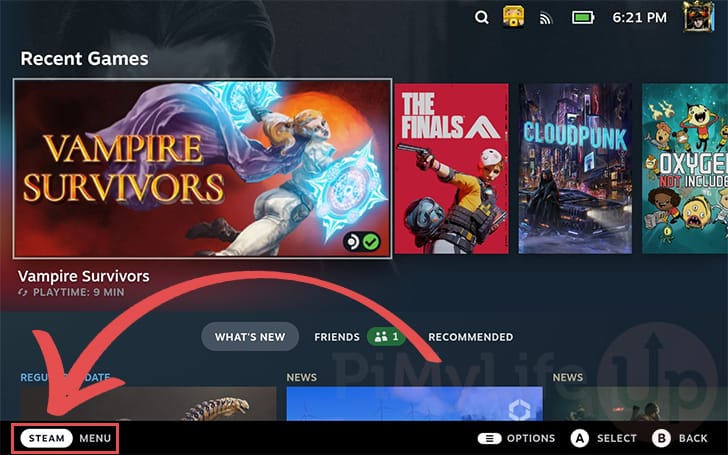 2. Once you have the STEAM Menu open, click the "Settings" option to change to the settings screen.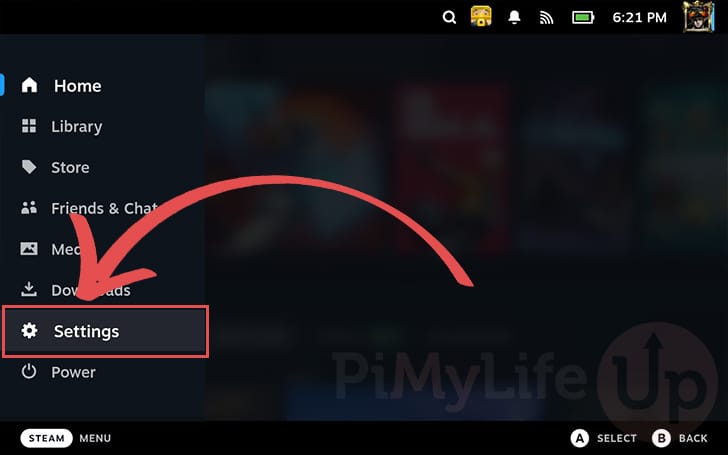 3. Now that we are in the settings menu, you must change to the "System" tab.
The system tab is where you will find settings that affect the entire system, including the factory reset option.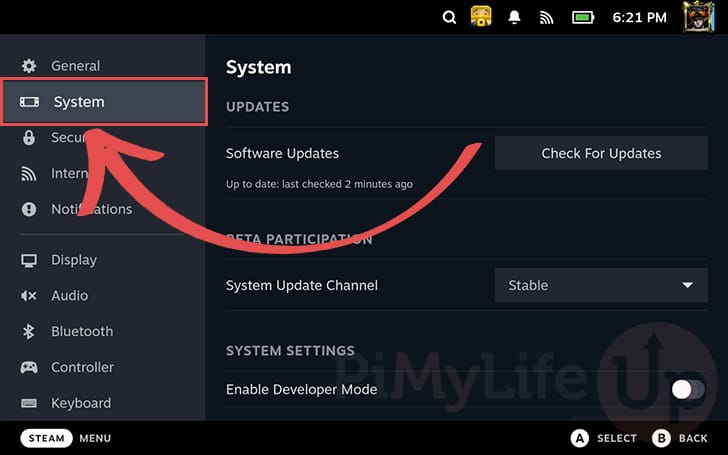 4. You must now scroll down to the bottom of the system settings page.
At the bottom, you will find the option labeled "Reset to factory state" with a button next to it.
Click the "Factory Reset" button to begin the reset process.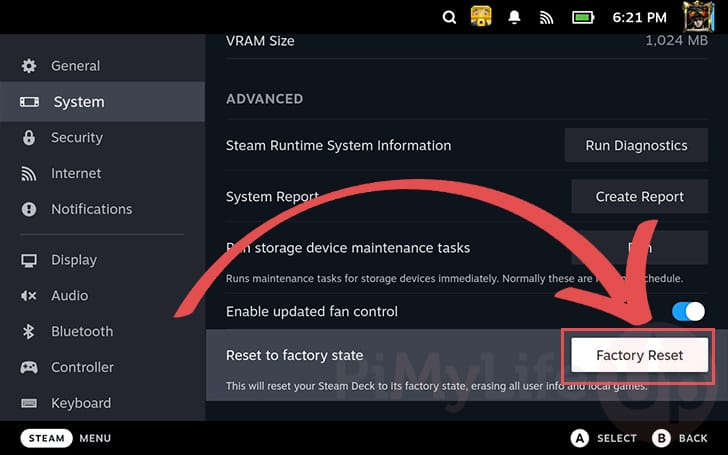 5. Before steamOS will begin factory resetting your Steam Deck, you must confirm you want to proceed
If you are certain you want to wipe your device and return it to the factory state, click the "Factory Reset" button.
Alternatively, if you have changed your mind and no longer want to reset your device, click the "Cancel" button.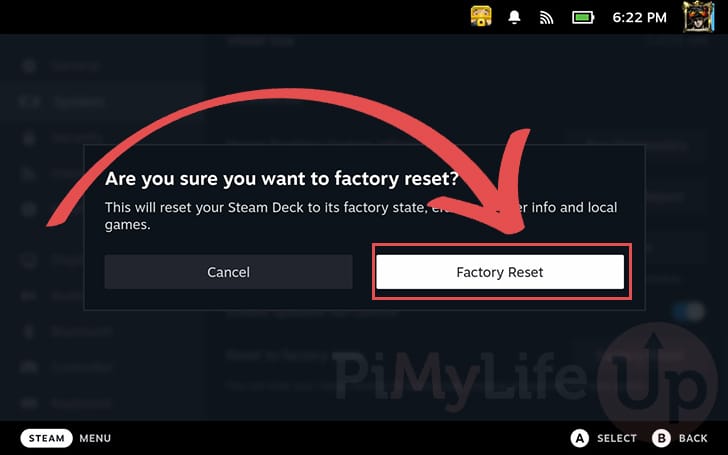 Conclusion
You will now have a good understanding of how you can factory reset your Steam Deck.
As mentioned throughout this guide, a factory reset is a feature designed to return your device to its factory state.
Typically, you will want to refrain from using this functionality, but it is very useful for those planning on selling or giving away their Steam Deck. Additionally, it can be a good last resort for solving issues on your device.
Please feel free to comment below if you have any issues with factory resetting your device.
Be sure to check out our many other Steam Deck tutorials if you found this one to be helpful.