This guide will show you how to install the XFCE desktop on the Ubuntu operating system.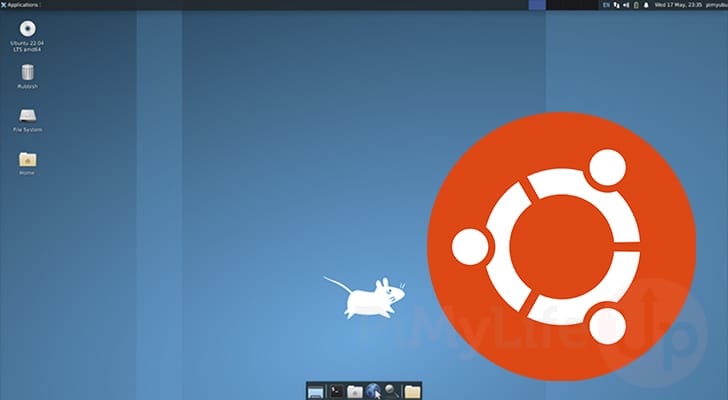 XFCE is a lightweight free, open-source desktop environment that can be installed as an alternative to Ubuntu's default desktop environment.
This environment has become a popular alternative, even leading to a derivative of Ubuntu that goes by the name "Xubuntu" which uses XFCE as the default desktop.
By default, Ubuntu uses a customized version of the GNOME desktop. Unfortunately, while a reasonably aesthetic graphical interface, it isn't quite as fast.
Over the following steps, we will show you how to install the XFCE desktop environment to your Ubuntu device. You can even install this desktop environment to Ubuntu Server if you want.
Installing XFCE on Ubuntu
In this section we will be walking you through the process of installing the XFCE desktop interface to the Ubuntu operating system.
We can get this desktop interface on Ubuntu by installing a particular package. This won't give you the same experience as using Xubuntu, but it will get you a faster, slimmer desktop interface.
These steps will be performed within the terminal which can be opened by pressing CTRL + ALT + T on your keyboard.
1. Your first step is to update the package list. Updating this list ensures we can download the latest version of XFCE from the default package repository.
To update the package list, run the following command within the terminal.
sudo apt update
2. Once the package list finishes updating, we can move on to installing XFCE onto Ubuntu.
To install this desktop interface to Ubuntu, we will install two separate packages.
xfce4 – This package contains the desktop interface itself.
xfce4-goodies – The goodies package contains various plugins, applications and more, making using XFCE on Ubuntu a nicer experience.
sudo apt install xfce4 xfce4-goodies
3. Once the desktop interface is installed, you must switch to it to start utilizing it.
Using the XFCE Interface on Ubuntu
Now that you have installed the XFCE desktop interface on your Ubuntu system, we will show you how to change it.
By default, you will automatically be logged into Ubuntu using the GNOME desktop environment.
1. To change to the XFCE desktop environment, you must first log out of the Ubuntu desktop interface.
Alternatively, you can also restart Ubuntu if you have auto-login disabled.
sudo reboot
2. Once you have logged out, your next step is to click on the user you want to log in with.
In our example, this will be our "pimyubu" user.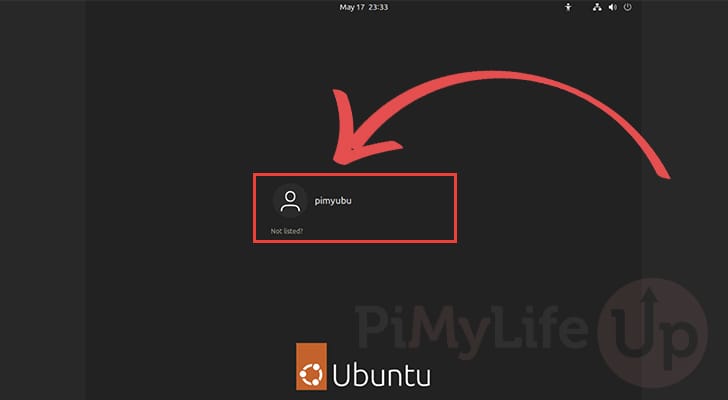 3. Once you have selected a user, you will now have the chance to change the desktop environment.
First, bring up the list of environments by clicking the cog in the bottom-right corner of the screen (1.).
Next, select the "Xfce Session" (2.) option to change Ubuntu to the XFCE desktop environment.
Finally, type in the password for your account (3.), and then the ENTER key to continue.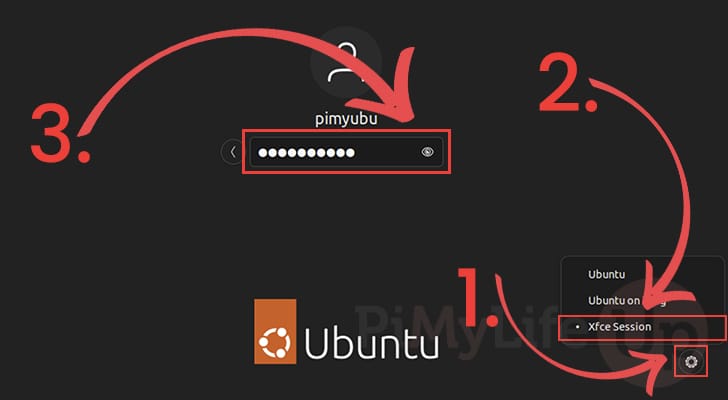 4. You should now have the Xfce desktop environment open on your Ubuntu device.
Feel free to explore the interface and compare it to the default GNOME one.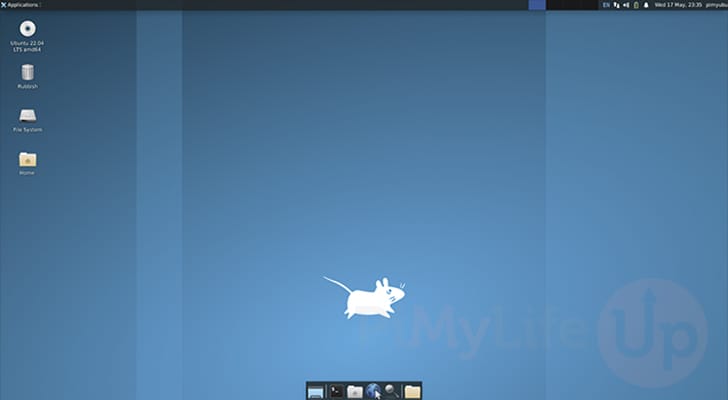 Uninstalling XFCE
If you have decided that the XFCE desktop environment doesn't suit your uses for Ubuntu, it is reasonably straightforward to remove.
1. Before continuing, you should change back to the default Ubuntu interface.
You can change to the default interface by logging out and then selecting "Ubuntu" or "Ubuntu on xorg".
If you are using Ubuntu server, you only need to ensure that you are within the terminal environment and not the desktop environment.
2. Once you are back on the default interface, you can uninstall XFCE from Ubuntu using the following command within the terminal.
This will remove any package that starts with the name "xfce4".
sudo apt purge xfce4 xfce4-*
3. Even though we removed XFCE, we should also run "autoremove".
This command will clean up any packages installed alongside XFCE that are no longer needed.
sudo apt autoremove
Conclusion
At this point, you will have hopefully gotten the XFCE desktop environment running on Ubuntu.
This desktop environment is slimmer and faster than Ubuntu's default GNOME interface. XFCE is the same interface Xubuntu and Linux Mint utilizes.
Please comment below if you have questions about getting the XFCE environment on your device.
We also have many other Ubuntu tutorials that are worth exploring for any user.