In this tutorial, we will be showing you how to force quit an app on macOS.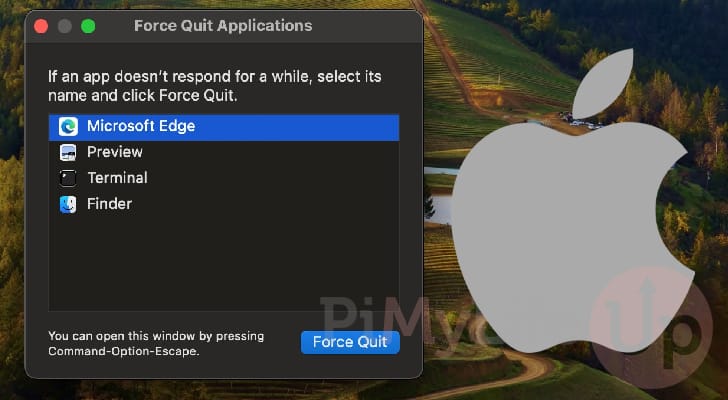 If an app has stopped responding on a Mac, sometimes the only choice is to force close the app. You can often tell an app has frozen on your device by the spinning pinwheel of death.
macOS gives you several different ways that you can use to force quit an app. We will cover several of these methods you can use to force quit out of an app.
Before you force quit out of an application, sometimes it helps to give it a few minutes. Just because an app appears stuck, it could be processing things in the background. A force quit terminates the process immediately, not allowing it to save any data.
The quickest way to force close an app is to press OPTION + COMMAND + SHIFT + ESC on your keyboard. If that doesn't work, delve further into this guide to see other methods.
If you are familiar with Windows, these methods are similar to opening up the task manager and terminating a process.
Closing an App from the Mac Dock
The easiest way to force quit an app on macOS is to utilize the dock. The dock is the menu located at the bottom of the screen and is one of the simplest methods to stop any application.
To close an app using the dock, look for its icon and CTRL + CLICK the application (1.).
This will bring up a context menu with a bunch of different options. We only need to click the "Quit" option to stop the app (2.).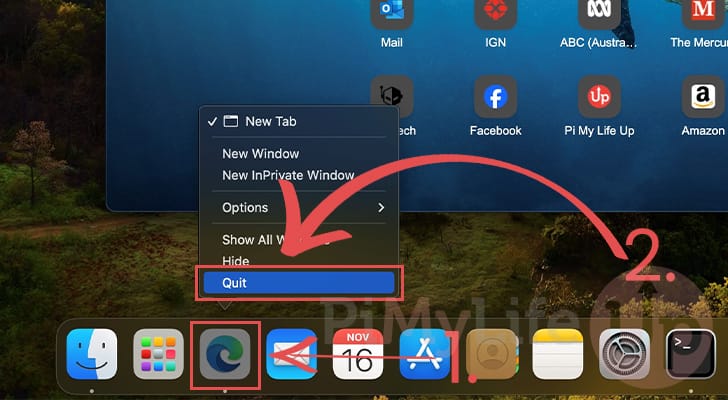 Using the Force Quit Applications Menu on a Mac
macOS comes with an application that is purely used to force quit out of running applications. It is super simple to use and is a valuable tool to know how to use.
You can easily bring up the force quit application by pressing OPTION + COMMAND + ESC on your keyboard. Alternatively, you can follow the steps below to open it through the Apple menu.
1. First, we must open the Apple menu by clicking the "Apple" icon in the top-left corner (1.).
With the Apple menu open, click the "Force Quit..." option (2.).
If you hold down the SHIFT key while clicking this option, it will force quit the currently selected application.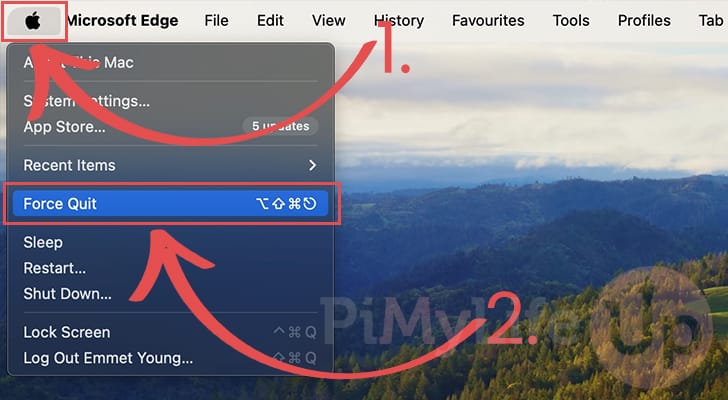 2. Within this list of applications, find the one you want to force quit on your Mac (1.).
After selecting the application, you want to force quit, click the "Force Quit" button (2.). Depending on the application you are closing this may be labeled as "Relaunch" instead.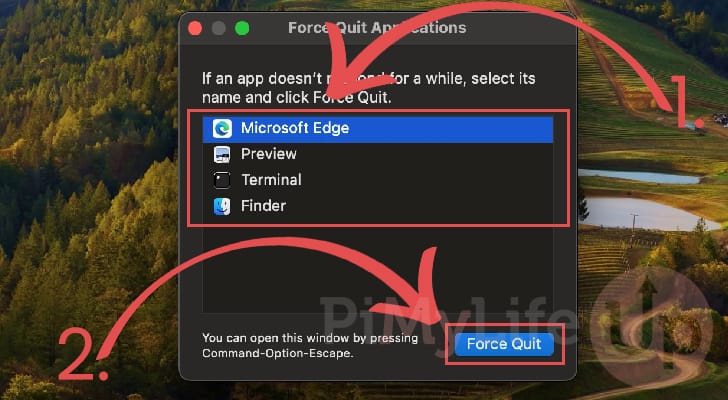 Force Close an Application using the Activity Monitor
macOS has a tool similar to the Windows operating system task manager. This tool goes by the name "activity monitor".
Like the task manager, this tool allows you to force stop any running application on your system. While this tool is helpful for force-stopping programs, the other methods we have already explored are much simpler to use.
1. One of the easiest ways to open the Activity Monitor on Mac is to use Spotlight.
You can bring up Spotlight by pressing COMMAND + SPACEBAR.
2. With Spotlight open, use its search bar to look for "activity monitor" (1.)
Once the Activity Monitor pops up as an option, you can either click it or press the ENTER key (2.).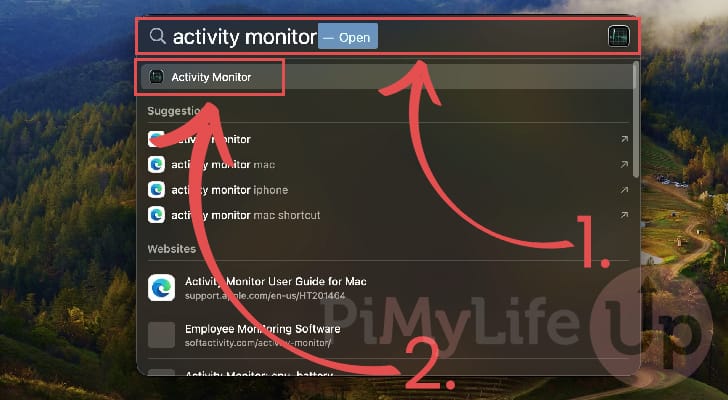 3. Now that the Activity Menu is open on your Mac, click the app you want to force quit (1.).
Once you have an application selected, click the "Stop" button (2.) in the top of the window. The stop button is the octagon with the letter "X" in it.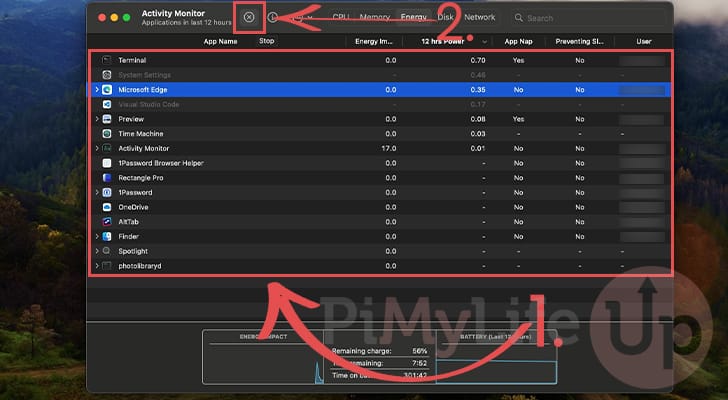 4. You will now be given two options. One option is "Quit" and the other is "Force Quit".
The close option will only work if the app hasn't frozen up on your Mac.
To force quit from your selected application, click the "Force Quit" button.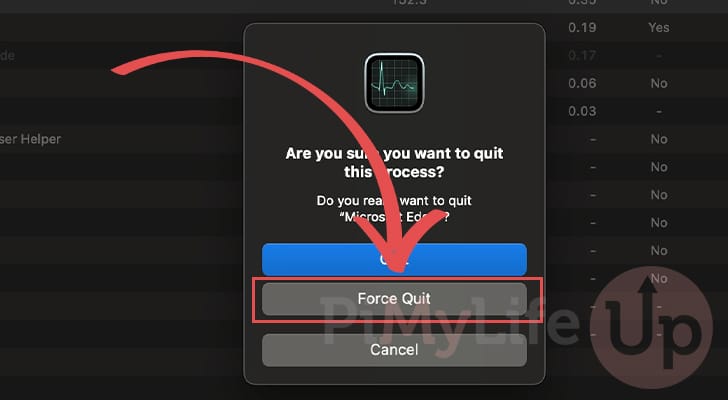 Keyboard Shortcut to Force Quit an App on macOS
The last method we will show is using a keyboard shortcut to force quit an app on your Mac.
This is the simplest method for force closing any application, but sometimes, it is a bit of a hit and a miss on whether it will trigger.
Additionally, if you can't bring an application into focus, this will not work either, and you will have to use one of the other methods.
To force close an app using your keyboard, press OPTION + COMMAND + SHIFT + ESC.
This keyboard shortcut will force close whichever application you currently have selected.
What to Do when Force Closing an App Doesn't Work
If you have tried all the previous methods and your app still refuses to quit, there is only one solution left.
Typically, an app shouldn't ever be able to get into a state where it can't be forced closed by the operating system. Consider contacting the app developer or uninstalling it from your system if it is a constant issue.
To deal with any app that refuses to close, you must restart your Mac.
You can restart your Mac by clicking the "Apple" icon in the top-right corner and then the "Restart" option.
Conclusion
Hopefully, by this point in the guide, you will have a good idea of how to force quite an app on a Mac.
Knowing how to force close an app is crucial for any operating system. No matter how good an operating system is, any app can get into a frozen state.
Please feel free to comment below if you have any questions about force closing out of applications.
If you found this tutorial to be helpful, we highly recommend you check out our many other Mac tutorials.